SCP-066 or "Eric's Toy" is a SCP featured in SCP - Containment Breach. SCP-066 was added in the 1.0 update.
Description
Edit
SCP-066 is an amorphous mass of intricately braided thread weighing approximately one kilogram. Stuck between the threads are what appear to be eyes, resembling those of a human. It displays significant mobility, primarily in the form of being able to move portions of itself at very high speed. It will automatically produce notes and effects in the presence of any human, regardless of whether that human interacts with SCP-066. This process takes a minimum of six seconds.
When it is not producing anomalous effects, SCP-066 will say the name "Eric" constantly in a deep masculine voice.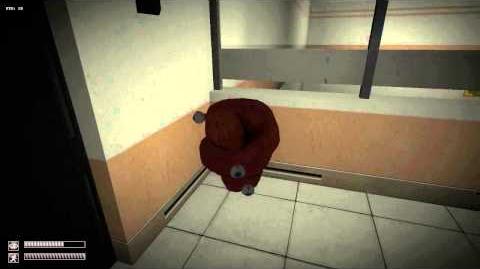 SCP-066 was added to the game in the 1.0 update. It will roll into the player and will make a crack on the ground similar to SCP-106, but without the blood. It will say "Eric?" various times and will occasionally play Beethoven's Second Symphony very loudly.
SCP-066 in the game is harmless, but it is stated that it can harm people hearing the 140 decibel version of "Beethoven's Second Symphony". It's also stated that SCP-066 can cause temporary or permanent deafness and severe hearing damage.
SCP-066 will also cure any effects from SCP-966, which may give it a purpose in the game.
 

List of SCPs

Hostile
Harmful
Harmless
Rejected
Joke