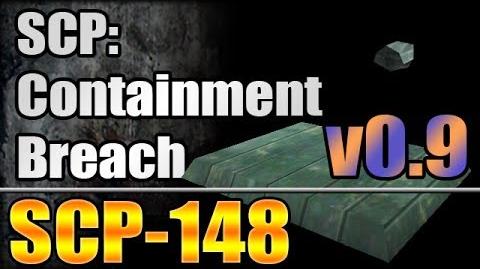 SCP-148 usually referred to as "The Telekill Alloy". is a useful SCP object found in SCP - Containment Breach.
Description
Edit
SCP-148 is a metallic substance, composed of a variety of known and unknown elements. Its effects, while difficult to quantify, appear to have influence in a manner directly proportional to the force of gravity between the instance of SCP-148 and a being. The range for which this effect is detectable is roughly 0.8 meters per kilogram.
Upon putting SCP-148 through SCP-914 on the "Coarse" or "Rough" setting, it becomes an ingot. If the player puts the ingot into SCP-914 with the Gas mask or Hazmat suit, a heavy variant of the respective items is created. Both items still have their regular abilities, just one new special ability is added.
SCP-148 is one of two SCPs without a loading screen, the other being SCP-1048.
SCP-148 originally had some form of kinetic ability, however the author removed this ability as it was too similar to another SCP.
 

List of SCPs

Hostile
Harmful
Harmless
Rejected
Joke
Ad blocker interference detected!
Wikia is a free-to-use site that makes money from advertising. We have a modified experience for viewers using ad blockers

Wikia is not accessible if you've made further modifications. Remove the custom ad blocker rule(s) and the page will load as expected.