SCP-513, referred to as "A Cowbell", is an SCP object encountered in SCP - Containment Breach.
Description
Edit
SCP-513 is a normal cowbell that is rusted. Nothing can unrust the bell.
Any noise produced by SCP-513 makes SCP-513-1 appear to those who heard the sound, and makes persons go insane. Test Subjects commited suicide due to SCP-513-1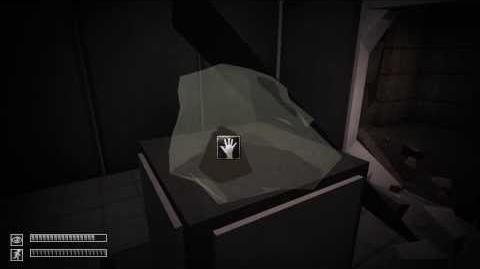 SCP-513 is in the containment chamber inside broken gelatin, damaged by the torn down wall. If the player takes the bell, it gets taken from the gel and can be rung. After this, SCP-513-1 will appear. Sometimes, after ringing, SCP-513-1 will lure the player into following it.
SCP-513-1
Edit
SCP-513-1
Info
Animate?
Yes
Harmful?
No
Description
Edit
It is very skinny man with bones on the chest, white eyes and skinny body.
After the player use 513, it will appear around the facility. The sound of ambient bell. Upon Approaching SCP-513-1 it will disappear for a short while. Putting SCP-513 in SCP-914 on Rough will show the remains of SCP-513 in decal and prevent SCP-513-1 from appearing.
SCP-513 existed in the older version but removed because it was too powerful; if it was rung, in the future, regardless the player's actions, SCP-531-1 will inevitably killed them. It was replaced with SCP-372, it was later added in v1.0
SCP-513-1 model is an edited version of old scream man.
If SCP-513 is placed in SCP-914 on fine, very fine or 1:1, the game will memory violate.
 

List of SCPs

Hostile
Harmful
Harmless
Rejected
Joke