SCP-682
Info
Object Class
Keter
Animate?
Yes
Harmful?
Yes
SCP Link
SCP-682
Gallery
SCP-682, also known as "Hard-To-Destroy Reptile", is a violent and hostile SCP, and the quaternary antagonist of SCP - Containment Breach. The large, reptile-like creature is described as one of the Foundation's most dangerous SCP objects.
Description
SCP-682 is a large, vaguely reptile-like creature of unknown origin. It appears to be extremely intelligent and was observed to engage in complex communication with SCP-079 during their limited time of exposure. SCP-682 appears to have a hatred of all life, which has been expressed in several interviews during containment.
SCP-682 has always been observed to have extremely high strength, speed, and reflexes, though exact levels vary with its form. SCP-682's physical body grows and changes very quickly, growing or decreasing in size as it consumes or sheds material. SCP-682 gains energy from anything it ingests, organic or inorganic. Digestion seems to be aided by a set of filtering gills inside of SCP-682's nostrils, which are able to remove usable matter from any liquid solution, enabling it to constantly regenerate from the acid it is contained in. SCP-682's regenerative capabilities and resilience are staggering, and SCP-682 has been seen moving and speaking with its body 87% destroyed or rotted.
In-game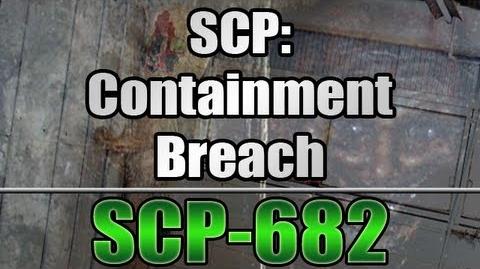 SCP-682 so far does not appear in the game, but it can be heard roaring once in a while throughout the facility and will smack a helicopter out of the air at Gate B with his arm, making it crash.
Trivia
Since v0.3, there's a random event where 682 roars, followed by many gunshots, explosions, and shakings, heavily implying that SCP-682 has escaped containment. It can be heard in the file,Roar.ogg and when played through a media player the "Artist" is labeled as "YOUR DEATH IS INEVITABLE".
SCP-682's profile photo is actually a beached, rotting whale (

The article can be read

here

).

The game was originally going to use the SCP-682 model from the game Six-Eight-Two, however, according to the developers, the model had multiple issues and was too difficult to port to the game's Blitz3D engine.
Gallery
 

List of SCPs

Hostile
Harmful
Harmless
Rejected
Joke